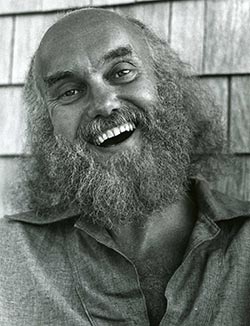 Ram Dass
Born: April 6, 1931, Boston, Massachusetts, U.S.A.
Died: December 22, 2019, Maui, Hawaii, U.S.A.
Nationality: American
Guru: Neem Karoli Baba
Philosophy: Advaita Vedanta
Books: - Be Here Now (1971), The Only Dance There Is (19784), Grist for the Mill (1977), Journey of Awakening (1978), Miracle of Love (1979), How Can I Help? (1985), Compassion in Action (1992), Experiments in Truth (1998), Still Here (2000), Paths to God (2004), Polishing the Mirror: How to Live from Your Spiritual Heart (2013), Walking Each Other Home (2018), Becoming Nobody (2019).
107 Ram Dass Quotes & Pointers
Ram Dass, aka Richard Alpert, was an American spiritual teacher, Harvard psychologist, psychedelic pioneer and friend of Dr. Timothy Leary and an author of many books on spirituality and non-duality. In 1967 he went to India, met his guru, Neem Karoli Baba, and entered an intense dharmic life in which he remained in until his death.
---
"The resistance to the unpleasant situation is the root of suffering."
---
"When you are already in Detroit, you don't have to take a bus to get there."
---
"The quieter you become, the more you can hear."
---
"The most exquisite paradox…as soon as you give it all up, you can have it all. As long as you want power, you can't have it. The minute you don't want power, you'll have more than you ever dreamed possible."
---
"A feeling of aversion or attachment toward something is your clue that there's work to be done."
---
"Every religion is the product of the conceptual mind attempting to describe the mystery."
---
"Be here, now!"
---
"If you think you're enlightened go spend a week with your family."
---
"Emptiness is not really empty; emptiness is full of everything. The 'everything' just isn't manifest."
---
"In most of our human relationships, we spend much of our time reassuring one another that our costumes of identity are on straight."
---
"The spiritual journey is individual, highly personal. It can't be organized or regulated. It isn't true that everyone should follow one path. Listen to your own truth."
---
"Everything changes once we identify with being the witness to the story, instead of the actor in it."
---
"I'm not interested in being a 'lover.' I'm interested in only being love."
---
"It's only when caterpillarness is done that one becomes a butterfly. That again is part of this paradox. You cannot rip away caterpillarness. The whole trip occurs in an unfolding process of which we have no control."
---
"We're here to awaken from the illusion of separateness"
---
"Information is just bits of data. Knowledge is putting them together. Wisdom is transcending them."
---
"I can do nothing for you but work on myself...you can do nothing for me but work on yourself!"
---
"Our whole spiritual transformation brings us to the point where we realize that in our own being, we are enough."
---
"Everything in your life is there as a vehicle for your transformation. Use it!"
---
"Across planes of consciousness, we have to live with the paradox that opposite things can be simultaneously true."
---
"In our relationships, how much can we allow them to become new, and how much do we cling to what they used to be yesterday?"
---
"The Ego is an exquisite instrument. Enjoy it, use it — just don't get lost in it."
---
"Psychedelics helped me to escape.. albeit momentarily.. from the prison of my mind. It over-rode the habit patterns of thought and I was able to taste innocence again. Looking at sensations freshly without the conceptual overly was very profound."
---
"Early in the journey you wonder how long the journey will take and whether you will make it in this lifetime. Later you will see that where you are going is HERE and you will arrive NOW...so you stop asking."
---
"As one individual changes, the system changes."
---
"Emotions are like waves. Watch them disappear in the distance on the vast calm ocean."
---
"You may protest if you can love the person you are protesting against as much as you love yourself."
---
"Cosmic humor, especially about your own predicament, is an important part of your journey."
---
"When somebody provokes your anger, the only reason you get angry is because you're holding on to how you think something is supposed to be. You're denying how it is. Then you see it's the expectations of your own mind that are creating your own hell. When you get frustrated because something isn't the way you thought it would be, examine the way you thought, not just the thing that frustrates you. You'll see that a lot of your emotional suffering is created by your models of how you think the universe should be and your inability to allow it to be as it is."
---
"It is only when you begin to understand that if you and I are truly in love, if I go to the place in me that is love and you to the place in you that is love we are 'together' in Love. We start to understand that what love means is that we are sharing a common state together. That state exists in you and it exists in me."
---
"Religions are founded by what mystics say when they come back; but what the mystics say is not the same as what happened to them."
---
"To him who has had the experience no explanation is necessary, to him who has not, none is possible."
---
"The freer I get, the higher I go. The higher I go, the more I see. The more I see, the less I know. The less I know, the more I'm free."
---
"What we're seeing 'out there' is the projection of where we're at — the projection of the clingings of our minds."
---
"When you go out into the woods, and you look at trees, you see all these different trees. And some of them are bent, and some of them are straight, and some of them are evergreens, and some of them are whatever. And you look at the tree and you allow it. You see why it is the way it is. You sort of understand that it didn't get enough light, and so it turned that way. And you don't get all emotional about it. You just allow it. You appreciate the tree.

The minute you get near humans, you lose all that. And you are constantly saying 'You are too this, or I'm too this.' That judgment mind comes in. And so I practice turning people into trees. Which means appreciating them just the way they are."
---
"The world is won by those who let it go."
---
"I don't really believe anything I say. Because the nature of my work concerns the spaces between the words, rather than the words themselves."
---
"What Einstein demonstrated in physics is equally true of all other aspects of the cosmos: all reality is relative. Each reality is true only within given limits. It is only one possible version of the way things are. There are always multiple versions of reality. To awaken from any single reality is to recognize its relative nature. Meditation is a device to do just that."
---
"That's who we all are on this path, spiritual family and friends. It's just one big family. We're all relatives until we realize we're really all the same and there's only one of us—one loving awareness. May you be one in that love."
---
"Oh! I'm going to do good things for my child. Balony! That's all ego. Just work on yourself. And: Everytime you work on yourself, you get calmer, you hear more, you sense more, you are more, you're more present. What are you offering a child? Not a set of social roles passing in the night. . . . You're offering a child here and now — ness. The treasure of consciousness. The treasure of awareness."
---
"Don't treat yourself so gingerly; you can let go of stuff. Sometimes it takes three breaths instead of two to do it, but you can do it. Be a little tougher and don't cling to stuff. People go around carrying everybody's stuff all of the time. I just pick it up and put it down. Pick it up and put it down. That doesn't mean I'm not compassionate, it doesn't mean I don't love people. But holding onto people's suffering is not compassionate… for them or for you."
---
"I think the message is that you don't need to go to anywhere else to find what you are seeking."
---
"When you go out into the woods, and you look at trees, you see all these different trees. And some of them are bent, and some of them are straight, and some of them are evergreens, and some of them are whatever. And you look at the tree and you allow it. You see why it is the way it is. You sort of understand that it didn't get enough light, and so it turned that way. And you don't get all emotional about it. You just allow it. You appreciate the tree. The minute you get near humans, you lose all that. And you are constantly saying 'You are too this, or I'm too this.' That judgment mind comes in. And so I practice turning people into trees. Which means appreciating them just the way they are."
---
"If you listen to your own inner voice, it will tell you where you are now, and which method will work best for you in your evolution towards the light."
---
"The thing about perspective is: something happens. it means nothing. we make up a story about what it means based on what we feel. this story becomes our truth. this story creates our reality, our world, what is possible and what is not."
---
"It is important to expect nothing, to take every experience, including the negative ones, as merely steps on the path, and to proceed."
---
"If you think you're free, there's no escape possible."
---
"Start from where you are – not where you wish you were. The work you're doing becomes your path."
---
"Unconditional love really exists in each of us. It is part of our deep inner being. It is not so much an active emotion as a state of being. It's not 'I love you' for this or that reason, not 'I love you if you love me.' It's love for no reason, love without an object."
---
"As you quiet your mind, you begin to see the nature of your own resistance more clearly, struggles, inner dialogues, the way in which you procrastinate and develop passive resistance against life. As you cultivate the witness, things change. You don't have to change them. Things just change."
---
"Suffering is the sandpaper of our incarnation. It does its work of shaping us."
---
"Ask yourself: Where am I? Answer: Here. Ask yourself: What time is it? Answer Now. Say it until you can hear it."
---
"You are loved just for being who you are, just for existing. You don't have to do anything to earn it. Your shortcomings, your lack of self-esteem, physical perfection, or social and economic success – none of that matters. No one can take this love away from you, and it will always be here."
---
"Compassion refers to the arising in the heart of the desire to relieve the suffering of all beings."
---
"When you know how to listen everybody is the guru."
---
"Everything in your life is there as a vehicle for your transformation. Use it!"
---
"I am without form, without limit, beyond space, beyond time. I am in everything. Everything is me. I am the bliss of the universe. I am everything."
---
"Be patient. You'll know when it's time for you to wake up and move ahead."
---
"Don't compare your path with anybody else's. Your path is unique to you."
---
"When you are causing suffering to others, you are causing suffering to yourself."
---
"Watch how your mind judges. Judgment comes, in part, out of your own fear. You judge other people because you're not comfortable in your own being. By judging, you find out where you stand in relation to other people. The judging mind is very divisive. It separates. Separation closes your heart. If you close your heart to someone, you are perpetuating your suffering and theirs. Shifting out of judgement means learning to appreciate your predicament and their predicament with an open heart instead of judging. Then you can allow yourself and others to just be, without separation."
---
"A being whose awareness is totally free, who does not cling to anything is liberated."
---
"As you dissolve into love, your ego fades. You're not thinking about loving: you're just being love, radiating like the sun."
---
"The next message you need is always right where you are."
---
"The universe is made up of experiences that are designed to burn out your attachment, your clinging, to pleasure, to pain, to fear, to all of it. And as long as there is a place where you're vulnerable, the universe will find a way to confront you with it."
---
"The game is not about becoming somebody, it's about becoming nobody."
---
"And suddenly I realized that he knew everything that was going on in my head, all the time, and that he still loved me. Because who we are is behind all that."
---
"You and I are the force for transformation in the world. We are the consciousness that will define the nature of the reality we are moving into."
---
"Don't think about the past. Just be here now. Don't think about the future. Just be here now."
---
"The universe is made up of experiences that are designed to burn out your attachment, your clinging, to pleasure, to pain, to fear, to all of it. And as long as there is a place where you're vulnerable, the universe will find a way to confront you with it."
---
"The thinking mind is what is busy. You have to stay in your heart. You have to be in your heart. Be in your heart. The rest is up here in your head where you are doing, doing, doing."
---
"Remember, we are all affecting the world every moment, whether we mean to or not. Our actions and states of mind matter, because we're so deeply interconnected with one another. Working on our own consciousness is the most important thing that we are doing at any moment, and being love is the supreme creative act."
---
"I hang out with my guru in my heart. And I love everything in the universe. That's all I do all day."
---
"We're fascinated by the words, but where we meet is in the silence behind them."
---
"Your problem is you are too busy holding on to your unworthiness."
---
"Each of us finds his unique vehicle for sharing with others his bit of wisdom."
---
"Suffering is part of our training program for becoming wise."
---
"As long as you have certain desires about how it ought to be you can't see how it is."
---
"If you think you're free, there's no escape possible."
---
"It's all real and it's all illusory: that's Awareness!"
---
"The game is not about becoming somebody, it's about becoming nobody."
---
"I am not this body. I am in this body, and this is part of my incarnation and I honor it but that isn't who I am."
---
"Be patient. You'll know when it's time for you to wake up and move ahead."
---
"The heart surrenders everything to the moment. The mind judges and holds back."
---
"The most important aspect of love is not in giving or the receiving: it's in the being. When I need love from others, or need to give love to others, I'm caught in an unstable situation. Being in love, rather than giving or taking love, is the only thing that provides stability. Being in love means seeing the Beloved all around me."
---
"Learn to watch your drama unfold while at the same time knowing you are more than your drama."
---
"It's very different because the Indians live as if they are their souls and Americans live as if they are their egos."
---
"Our interactions with one another reflect a dance between love and fear."
---
"All spiritual practices are illusions created by illusionists to escape illusion."
---
"Compassion refers to the arising in the heart of the desire to relieve the suffering of all beings."
---
"There's much more in any given moment than we usually perceive, and that we ourselves are much more than we usually perceive. When you know that, part of you can stand outside the drama of your life."
---
"Spiritual practices help us move from identifying with the ego to identifying with the soul. Old age does that for you too. It spiritualizes people naturally."
---
"In mystical traditions, it is one's own readiness that makes experiences exoteric or esoteric. The secret isn't that you're not being told. The secret is that you're not able to hear."
---
"Remember, we are all affecting the world every moment, whether we mean to or not. Our actions and states of mind matter, because we're so deeply interconnected with one another. Working on our own consciousness is the most important thing that we are doing at any moment, and being love is the supreme creative act."
---
"I see my life as an unfolding set of opportunities to awaken."
---
"A moment comes when 'other' is no longer other."
---
"You give up not meditating. It's called meditation action. There's no way out of it. Meditation means to be constantly extricating yourself from the clinging of mind."
---
"Death has such great importance in this society that it affects everything. I learned from my guru that death is not the enemy, I see it as another moment. Yet it's the end of an incarnation and means going on to other incarnations."
---
"The human mind is like that monkey, incessantly active by its own nature, then it becomes drunk with the wine of desire, thus increasing its turbulence. After desire takes possession comes the sting of the scorpion of jealousy at the success of others, and last of all the demon of pride enters the mind, making it think itself of all importance."
---
"What is important is that you get your house in order at each stage of the journey so that you can proceed. 'If some day it be given to you to pass into the inner temple, you must leave no enemies behind.' — de Lubicz For example, if you never got on well with one of your parents and you have left that parent behind on your journey in such a way that the thought of that parent arouses anger or frustration or self-pity or any emotion . . . you are still attached. You are still stuck. And you must get that relationship straight before you can finish your work. And what, specifically, does 'getting it straight' mean? Well, it means re-perceiving that parent, or whoever it may be, with total compassion . . . seeing him as a being of the spirit, just like you, who happens to be your parent . . . and who happens to have this or that characteristic, and who happens to be at a certain stage of his evolutionary journey. You must see that all beings are just beings . . . and that all the wrappings of personality and role and body are the coverings. Your attachments are only to the coverings, and as long as you are attached to someone else's covering you are stuck, and you keep them stuck, in that attachment. Only when you can see the essence, can see God, in each human being do you free yourself and those about you. It's hard work when you have spent years building a fixed model of who someone else is to abandon it, but until that model is superceded by a compassionate model, you are still stuck. In India they say that in order to proceed with one's work one needs one's parents' blessings. Even if the parent has died, you must in your heart and mind, re-perceive that relationship until it becomes, like every one of your current relationships, one of light. If the person is still alive you may, when you have proceeded far enough, revisit and bring the relationship into the present. For, if you can keep the visit totally in the present, you will be free and finished. The parent may or may not be . . . but that is his karmic predicament. And if you have been truly in the present, and if you find a place in which you can share even a brief eternal moment . . . this is all it takes to get the blessing of your parent! It obviously doesn't demand that the parent say, 'I bless you.' Rather it means that he hears you as a fellow being, and honors the divine spark within you. And even a moment in the Here and Now . . . a single second shared in the eternal present . . . in love . . . is all that is required to free you both, if you are ready to be freed. From then on, it's your own individual karma that determines how long you can maintain that high moment."
---
"A moment's reflection will show you that you play many roles in the course of a day . . . and that who you are from moment to moment changes. There is the angry you, and the kind you, the lazy you, the lustful you — hundreds of different you's. Gurdjieff points out that sometimes one 'you' does something for which all the other 'you's' must pay for years or possibly the rest of this life."
---
"The spiritual journey is not about acquiring something outside yourself. Rather, you are penetrating the layers and veils to return to the deepest truth of your own being."
---
"As we acquire a certain degree of equanimity in self-image, we are that much more likely to feel empathy for those around us. We know what it's like to be a 'self' moving through the world of 'others.' When someone feels particularly isolated or in pain, we don't need a great deal of information in order to come to his or her aid."
---
"Your problem is you're... too busy holding onto your unworthiness."
---
"Only that in you which is me can hear what I'm saying."
---
"There's much more in any given moment than we usually perceive, and that we ourselves are much more than we usually perceive. When you know that, part of you can stand outside the drama of your life."
---
"Learn to watch your drama unfold while at the same time knowing you are more than your drama."
---